Ok, afternoon - but it's morning somewhere in the world so the title is still relevant.
Today is the day when I get busy. I've had a great night out on Friday with my friends and my man, and a very very relaxing Saturday with my dog and my man. Can't complain.
Today, I'm firstly doing this...
Then, I've got a few ideas that I want to try out. I'm unsure as to when I'll start showing my work and the such, but it's soon coming. I cannot wait to open my little shop.
Anyway, I have decided I am going to ask you for a favour - recommend some good books. Now, apart from biographies, I will read pretty much anything. I grew up reading classic literature (my fave still is Emile Zola's "Germinal"), I love Edgar Allan Poe and Guy de Maupassant. I also have a sft spot for Nick Cave, Bukowski and from the "gentler ones" Dan Brown....
I could make a huge list of all the books I loved, but to be honest, that would be a very long and boring list to read. So, instead, tell me what your faveourite's are and why and I will get onto them. Nothing better than a good book and a tea in the evenings just as you're winding down.
Speaking of books, can someone please get me one of
these
How sweet is that?! I promise I will take care of it and love it so much.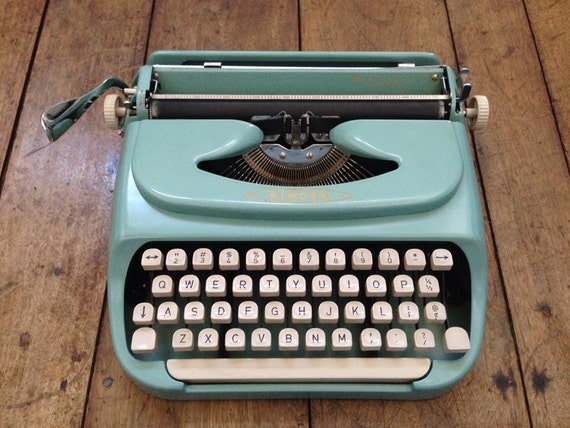 I feel lucky to be here at this time, with all the technology and the rest, I love my laptop don't get me wrong, but that sound of the typewriter has something special about it. And the little blemishes in the type itself has character.
I suppose I can always find the copy-type to download :-)
I'm off to read up on the The Healing Nature of Craft in my
Mollie Makes
copy and finish off my coffee. You have a good Sunday, all.